Home
› 3G 4G GPS fleet car tracker M36
3G 4G GPS fleet car tracker M36
This  NEW 3G 4G GPS tracker M36 is a GPS fleet tracker with faster GPS co-ordinate triangulation accessing the two major satellite systems, powered by GPS and GLONASS.
This product allows for a vaster area of live 3G tracking and data coverage.
This is a powerful 3G 4G  GPS tracker for cars, buses, vehicle fleets and machinery.
Full capability 3G 4G GPS  connectivity –  Internal backup battery – Jamming detection!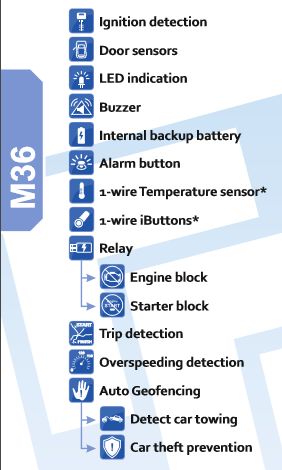 The GPS tracker is able to collect vehicle co-ordinates and other useful data and transfer them via the GSM/3G network. This device is 3G future proof. The upcoming network changes will not affect this GPS trackers which is fully suited to the new requirements. It is important to mention that M36 has additional inputs and outputs, which let you control and monitor other devices on remote objects. This M36 GPS fleet tracker has also has a USB port for device status log output and configuration.
Network Specs
UMTS/HSPA+
GSM/GPRS/EDGE module
UMTS/HSPA+ bands depending on module
850/900/1700/1900/2100 MHz
UMTS Uplink/Downlink up to 384 kbps
EDGE uplink up to 236.8 kbps, downlink up to 296 kbps
GPRS and EDGE class 33;
SMS (text, data)
Special features
Integrated 3G module makes this device usable worldwide, as there are countries which have only a 3G network.
►  Small and easy to mount case
►  Real-time tracking
►  Smart data acquisition – based on time, distance, angle, ignition and I/O events allow to have precise online track
►  Sending acquired data via 3G or GPRS (TCP/IP and UDP/IP protocols)
►  Smart algorithm of 3G or GPRS connections (GPRS traffic saving)
►  Operating in roaming networks by preferred GSM providers list
►  Events on I/O detection and sending via 3G,GPRS or SMS
►  Scheduled 24 co-ordinates SMS sending when GPRS not available
►  5 geofence zones (rectangular or circle)
►  Auto Geo-fencing crested for car towing detection and car theft prevention
►  Deep Sleep mode (less than 4 mA power consumption)
►  FOTA (firmware updating via GSM/3G)
►  3 operational modes (Home, Roaming,Unknown) based on operator
►  Integrated scenarios:
►  Over speeding to secure driver and prevent penalties
►  Trip start and end detection
►  Authorized driving (1-Wire® iButton ID keys up to 50 iButton keys) use to prevent  stealing or indicate drivers