iButton ID LED & buzzer alarming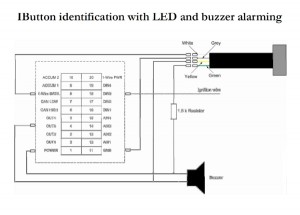 GPS fleet management tracker with Dallas Key capability allows to manage vehicle tracking and driver management via a driver personalized Dallas Key. GPS tracking with dallas key lets you get a time sheet showing swap over times, start times and finish times. This GPS solution is the ideal GPS for company vehicles.
GPS tracker driver management
GPS tracking with Dallas Key allows to disable the ignition unless operated with a Dallas Key. This gives your vehicle the extra digital encryption security that is tamper proof.
You tell us what your requirements are and we will work to customize your GPS trackers to your needs.