Description
Smartphone GPS Tracking APP for GPS trackers for both iPhone iOS platform and Android platform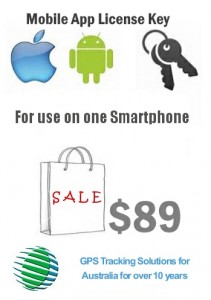 We offer a GPS Tracking APP for our GPS trackers for both iPhone iOS platform and Android platform.
You get web access and a desktop software with the purchase of your GPS tracking units, but the GPS Tracking APP offers you quick access to your entire fleet and to individual fleet vehicle data. while you are on the go. On your mobile phone or laptop, it offers you access and control over your vehicles, machinery and assets with the touch of a button. 
The GPS Tracking APP iPhone + Android  license is for one smartphone or laptop only as the APP locks to the IMEI of your phone for security reasons.
The license keys for devices with iOS platforms differ to those with Android platforms. Please call our office for the  license you require for your smartphone iOS/iPhone or Google App/Android phone. We can give you your digital license key over the phone and even help you with setup and first login.
Get your license for the GPS APP for either iPhone or Android now from our office staff. An APP license for one smartphone can be obtained for $89 inc GST.
Please call (02) 8764 0753 to get your on the spot GPS Tracking APP license key